It has been four days now since I saw the new Martin Scorcese film at a special preview screening, and yet the sounds of Silence are still ringing in my ears.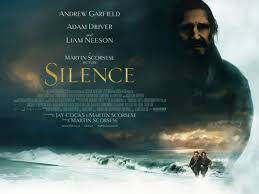 I have been eagerly awaiting the release of this adaptation of a 1966 novel of the same name since I learned that my friend Dale Brown was teaming up with Scorcese to finally get this project to the big screen. Another friend, Tyler Zacharia, is Dale's right-hand man and has been updating me periodically as the film wound its way through the seemingly interminable production process, including a preview screening in November at The Vatican.
In order to render it eligible for the 2016 movie awards, Silence was released in four theaters on December 23rd. This weekend, it expands to 51 theaters, and then expands further to 750 theaters next weekend. On Tuesday of this past week, Dale invited me and some other folks at Pepperdine to join a special screening in Hollywood at the Landmark Theater. My oldest daughter Jessica accompanied me on this father-daughter date.
Having not read the book (but knowing the 2:30 run time), and knowing that the plot revolved around the persecution of Portuguese priests in 17th century Japan, we knew we were in for an evening of active education and contemplation, rather than the usual passive special-effects-driven, car-chased-fueled entertainment. We were right.
My hope in writing this review is to convince you to see the film, so I won't spoil it for you. I will, however, provide you with some questions to ponder in advance. And while the movie was made by Christians and tells a story about Christians, the themes and questions raised by the film are most certainly universal.
Question 1: Why do some people laugh heartily at the recidivism of Kichijiro, while others squirm and wince? Both responses are, in some ways, appropriate, depending upon how one views human nature and how one sees oneself.  I tended much more toward the wincing, as I saw myself too clearly in this superbly acted supporting character.
Question 2: "What would I do if I were in the shoes of Rodrigues (Andrew Garfield)?" After thinking about this for a few hours after you see the film, then ask, "What should I do if I were in his shoes?" Are these answers different? If so, why? Because of weakness, or because of strength?
For me, my body tells me I probably would have ultimately made the same choice; my mind tells me I would aspire to make a different choice; my soul is conflicted. It seems to me that this all boils down to how one views intense human suffering and the lengths we are called to go through to relieve it here on earth. My experiences over the past seven years in African prisons informs my view of this, but probably not in the way I would have assumed.
Question 3: What did the last scene mean? Should I be happy, angry, relieved, disappointed, or just dumbfounded? All but a few of those in the packed theater on Tuesday night started out with the latter, as we sat in stupefied silence and watched the credits roll. I will confess to wrestling with the other four above-listed emotions in the intervening days.
I had a chance to talk the next day to a good friend who had read the book, and he assured me that the book left the reader in a similar state of wonderstruck limbo.
I still don't know exactly what I think about the movie, but I do know a few things: (1) I will see it again, and soon, (2) how and why a story about Portuguese priests four hundred years ago has strong relevance today, and (3) my Christian and non-Christian friends will be glad they invested the time, money, and mental energy in this important film.
http://www.throwingstarfish.com/wp-content/uploads/2016/09/DC-WEB-LOGO-300x104.png
0
0
Jim
http://www.throwingstarfish.com/wp-content/uploads/2016/09/DC-WEB-LOGO-300x104.png
Jim
2017-01-07 12:35:12
2017-01-07 15:12:57
The Roar of Silence